SUBMISSIONS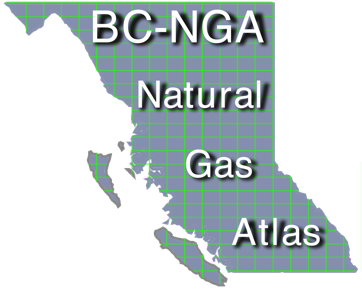 • Regulations
• Analytical Procedures
• Sample Shipping and Information Contact
Submission of Data, Information and Samples to BC-NGA
The first phase of the BC-NGA project will focus on natural gas in northeast British Columbia (NEBC). New samples from wells, reservoirs, groundwaters, and the atmosphere will be collected by participating parties, including companies, groups, and agencies. These gas samples will be analysed for their molecular and stable isotope composition. Existing gas geochemical data and associated metadata from the region will also be incorporated.
Regulations
As of July 30, 2015, the BC Oil and Gas Commission outlined changes to the Drilling and Production Regulations.
BCOGC Industry Bulletin 2015-21.pdf
These regulations require natural gas isotope analysis to be submitted as per Section 34 (5) (b) and 34 (6.1).
BCOGC Drilling and Production Regulation.pdf
Guidelines for collection and submission of natural gas stable carbon isotope ratio data to the BCOGC are described.
BCOGC Isotope Analysis and Submission Guideline.pdf
The BCOGC Well Data Submission Requirements Manual, November 2015, Version 1.10 are described.
BCOGC Well Data Submission Manual.pdf
This BCOGC Well Data Submission Manual details the submission requirements for submitting the 'Gas and Fluid Analyses' data according to Section 34 (6.1) of the BCOGC "Drilling and Production Regulation". This includes submission of a PDF and PAS file on the BCOGC eSubmission Portal. The gas isotope data are submitted as a PDF and/or CSV file to welldatamail@bcogc.ca.
The BC-NGA database will be maintained and hosted by Geoscience BC.
Project 2015-013 BC Natural Gas Atlas (Northeastern BC) ).
The BC Natural Gas Atlas Project offers, at no charge, to make molecular composition and stable carbon isotope ratio measurements of the light hydrocarbons and carbon dioxide on representative gas samples sent to the Biogeochemistry Facility from exploration and production wells in BC (reservoir gas, well bore/mud gas). Relevant, dissolved and fugitive gases within the scope of the project will also be analysed at no cost, require prior agreement and arrangements. It is expected that sample full metadata will accompany any samples sent (e.g., well ID, location, depth, geologic horizon).
Examples of the types of gas samples and existing gas geochemical data (both with metadata) acceptable for this initial phase of BC-NGA include:
• Drill Stem Test (DST) samples as gas or condensate;
• Production Packer samples as gas or condensate;
• Production Flow samples as gas at the separator;
• Solution Gas from wells;
• Surface casing gas samples and existing data;
• Mudgas or Cuttings gas from wells and existing data;
• Dissolved gas from groundwaters, aquifers, formation fluids and existing data;
• Fugitive release gas in the airsheds with active petroleum exploration, production and transportation in BC;
• Gas geochemical analytical data (molecular and stable isotope) from existing wells;
• Geochemical data of oils and condensates (molecular and stable isotope) from existing wells.
Analytical Procedures
All samples received will be properly logged and safely stored on-site. All analyses will follow industry-standard procedures (SOPs upon request). All data will be stored and backed up on UVic servers. The molecular composition will be analysed by a combination of TCD-GC, FID-GC and GC-IonTrap-MS. The stable isotope ratios of the light hydrocarbons (C1-C5) and carbon dioxide (CO2) with be measured by variations of GC-IRMS.
It should be noted that:
1. ALL SUBMITTED DATA AND ANALYTICAL RESULTS FROM SAMPLES PROVIDED WILL BE AVAILABLE IN THE PUBLIC DOMAIN ON THIS SITE AND OTHER PLACES;
2. ALL SAMPLING AND ASSOCIATED PACKAGING, SHIPPING AND DOCUMENTATION TASKS AND COSTS ARE THE FULL RESPONSIBILITY OF THE SAMPLE PROVIDER - THIS INCLUDES THE PROPER PREPARATION AND SHIPPING OF ANY DANGEROUS GOODS;
3. THE KNOWN OR SUSPECTED PRESENCE OF ANY TOXIC OR DANGEROUS SUBSTANCES (e.g., HYDROGEN SULPHIDE) IN THE SAMPLES MUST BE DECLARED TO THE RECEIVER IN WRITING, WITH APPROPRIATE SAFETY DATA SHEETS (SDS) BEFORE THE SAMPLES ARE SHIPPED.
Sample Shipping and Information Contact
Details on the instructions and protocols for the collection and shipment of the gas samples can be obtained from the Biogeochemical Facility (Curtis Evans):
• email: c2evans@uvic.ca
• telephone of Biogeochemistry Facility: 250-472-5380
Shipping (Physical and Courier) address:
Biogeochemistry Facility
Room B409, Bob Wright Centre
School of Earth and Ocean Sciences
University of Victoria
3800 Finnerty Road
Victoria, BC  V8P 5C2, Canada
Mailing address:
Biogeochemistry Facility
Room B409, Bob Wright Centre
School of Earth and Ocean Sciences
University of Victoria
PO Box 3065 STN CSC
Victoria, BC  V8W 3V6